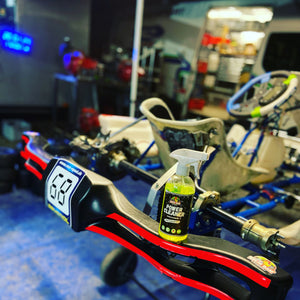 developed with professionals

Made in Germany

100% cleanliness guaranteed
With a big BAM to a high gloss, thanks to SolidBam!
The SolidBam Power Cleaner was specially developed for motorsport and is therefore ideal for any cleaning application in this area. SolidBam cleaners are perfect for e.g. plastics, metal surfaces and other alkali-resistant materials without attacking the materials. The low PH value of our SolidBam cleaners guarantees that all types of dirt are removed in a way that is gentle on the material. The mixture of oil, rubber abrasion and dirt is playfully dissolved by the composition specially developed for motorsport. In addition, all SolidBam products are developed with the aim of being environmentally friendly.
SOLIDBAM
Our brand
With the founding of SOLIDBAM in 2019, the two founders are working to make it easier for racing teams, mechanics, drivers and motorsport enthusiasts to clean valuable motorsport items. With SOLIDBAM we want to become the leading manufacturer of special cleaners in motorsport. Thorough cleaning and, above all, the simultaneous protection of your valuable material is the principle at SOLIDBAM - quality and environmental friendliness is an obligation at SOLIDBAM - the crazy friendly duck - stands for friendliness (not only towards the environment), cleanliness, innovation, and of course the highest quality . These values are brought to life through our many years of experience and above all through our passion for motorsport.